SERVICES
In Office Classes
Dr. Brower is experienced at coming directly to an office that he has never been to. He enjoys teaching over the shoulder to pracititoners who are more comfortable working with their own equipment in their own settings, or those that find taking time away difficult to do or inconvenient. He is licensed in California, South Dakota, and Nebraska. In those states he can perform the procedures if needed while you watch and learn.
Online Courses
Course content can be tailored to your needs and done at your own pace.
Introduction to Mini Dental Implants is a great way to start and costs $100. If you find that useful and helpful you can work into the modules discussing techniques, common usages, and protocols. Advanced modules can take you through difficult cases, fixed full arch restorations, and repair scenarios. https://vimeo.com/ondemand/getdentaltraining
Educational Video on how to use the small diameter implant surgical guide.
In Person Courses
Content is based on the desired materials and ranges through the topics that interest general practictioner's and specialists alike. Frequent lectures topics are on dental implantology, orthodontics, dental marketing, dental office management, and investing. In office courses are $2500 per day plus actual travel expenses for one doctor. If CE credits are given then the fee is $3500 per day. If there are two or more doctors then the fee is $5000 per day. Each day has unlimited hours for Dr. Brower to be helping you see patients in your office. Saturdays are treated the same as any other day. Surgery (of all kinds), Practice Management, Orthodontics, and Implant Prosthetics are popular courses.
(R-PRF)-Regenerative Platelet Rich Fibrin (RPRF) is the most active cell counts achievable with the most modern techniques in the field of platelet and plasma therapies. Stem Cell counts as high as 3% are achievable and repeatable with these techniques personally taught by Dr. Brower. In office courses for facial esthetics and regenerative medicine treatments are available on a daily basis.
To purhcase R-PRF (RPRF) surgical supplies call 800-516-7631 or email browerj@gmail.com Supplies include syringes, needles, topicals, and guides for each use location.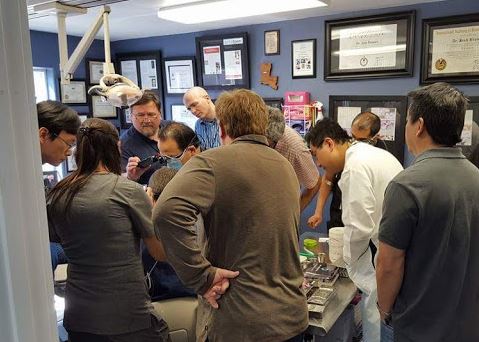 Watch Dr. Brower perform live surgery.
In person at your office.
Testimonials from other practitioners from all over the world about courses with Dr. Josh Brower
MY PROMISE
I will do my very best to make the classes tailored to your needs so that you don't have to only learn one small pearl by attending one specific course. I have been in practice over 20 years and respect that education for you means time away from your family, your practice, and the rest of your life. I will not waste your time and share every cost saving tip I have related to what you want to learn when you train with me.